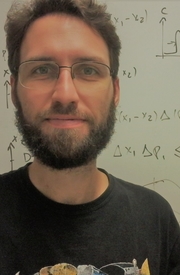 Summary curriculum:
- Bachelor's in Physics and Engineering (2003-2007): University of Sao
Paulo (Brazil) / Ecole Polytechnique (France).
- Master's in Physics (2007-2009): Ecole Polytechnique / Institut
d'Optique Graduate School / Université Paris 6 (France). Advisors:
Philippe Grangier / Nicolas Treps
- PhD in Physics (2009-2012): Université Paris 6 (France). Advisors:
Nicolas Treps / Claude Fabre
- Postdoc #1 (2012-2015): University of Sao Paulo (Brazil).
Supervisor: Marcelo Martinelli
- Postdoc #2 (2016): Federal University of Santa Catarina (Brazil).
Supervisor: Paulo H. Souto Ribeiro
- Professorship #1 (2016-2017): Fluminense Federal University (Brazil)
- Professorship #2 (2017-...): Federal University of Santa Catarina (Brazil)
Research Interests:
- Quantum information and computation
- Quantum Optics: multimode entanglement, experimental devices for
entanglement generation
- Classical Optics: orbital angular momentum of light and mode preparation
Curriculum Lattes
Selected publications:
- J. Roslund et al., "Wavelength-multiplexed quantum networks with
ultrafast frequency combs". Nature Photonics, 8, 109-112 (2013).
- R. Medeiros de Araújo et al., "Full characterization of a highly
multimode entangled state embedded in an optical frequency comb using
pulse shaping". Physical Review  A, 89, 053828 (2014).
- O. Pinel et al., "Generation and Characterization of Multimode
Quantum Frequency Combs". Physical Review Letters, 108, 083601 (2012).
- R. B. Rodrigues et al., "Orbital angular momentum symmetry in a
driven optical parametric oscillator". Optics Letters, 43, 2486-2489
(2018).
- R. Medeiros de Araújo et al. "Experimental study of quantum
thermodynamics using optical vortices". Journal of Physics
Communications, 2, 035012 (2018).
Office: 006, Department of Physics
Phone: + 55 48 3721 3748
e-mail: